Workshop with José Carballal
from Mysore House Madrid
June 30th – July 3rd, 2022
Thursday
Morning: Mysore class (two groups)
Friday
Morning: Mysore class (two groups)
Afternoon (4-6pm): Workshop "Technique and work on the group´s difficulties and practice.
Saturday
Mysore class (two groups)
Coffee Break
Workshop "Sutras to help us on the mat"
Space where we will study some sutras that can help us understand how we face our asana practice with more consciousness and how to develop a balanced and healthy relationship with our practice so it can be useful to our life.
Sunday
Led class
Coffee Break
Workshop "Sutras to help us off the mat)
We will study and understand some of the sutras that help us to live with peace and consciousness, with practical examples that we can apply to our life. It will be also time for the self reflexion and the possibility of sharing the difficulties that we all have off the mat.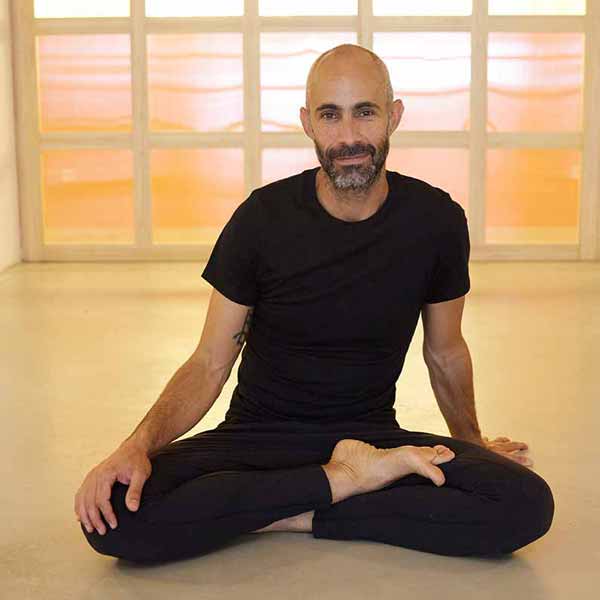 I started practicing Ashtanga Yoga in 2001, at a time in my life where despair, negativity and self-destructive tendencies abounded. A few months after my first class, I traveled to Mysore (India), I met my teacher Sharath Jois and since then, I have maintained a relationship of trust and respect that has helped me enormously on this path inward. Sharathji is still my teacher and I travel every year to Mysore to be able to nurture myself from the group practice under his gaze.
I have a Level II authorization from the Sharath Yoga Center and have been working on the advanced series for several years now. None of this qualifies me in any way regarding my teaching abilities: it is my perseverance in my personal work, in my practice and in my relationship with my teacher and my students that has made me the teacher I am today. My focus on teaching is on trying to transmit a practice that can accompany you for life, and that helps sustain each stage of it. My work involves trying to put light in the dark or blind areas of the people who allow themselves to be accompanied by me, so that they can have a more conscious and happy life. For this, I help myself with the teaching of the practice of asana from a balanced approach between firmness and compassion, of the philosophical aspects of yoga and of Gestalt therapy techniques, the humanistic therapy that seeks awareness in the here and now. Gestalt is one of the ways I work on svadhyaya, the fourth niyama, which speaks of the importance of self-knowledge.
I am currently in the second year of training in this type of therapy, at the Gestalt Therapy School in Madrid (EMTG), and I have a full training in trauma-sensitive yoga as well.
I am the co-owner, along with my partner Rafael Martínez, of the "Mysore House Madrid" shala, where we support a beautiful and committed community of practitioners, and where I currently carry out my main work as an ashtanga yoga teacher, which began 18 years ago.